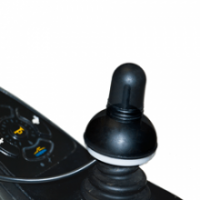 Operating System: Other
Availability at Mada Center : Out of Stock
Turn your wheelchair's joystick into your mouse
BJOY Ring is a USB device that allows using the joystick of your wheelchair as a mouse to control the computer.
With no additional adjustment, you can control and access all your favourite applications.
The mouse clicks can be done with the external switches that you prefer.
Use your mouse in an accurate and comfortable way from your wheelchair's joystick.
Get to your favourite applications in an easy and simple way.
Use your favourite switches to make the dicks
Use the external switches that suits you the most to make the clicks.
Use the BJOY software in order to modify the mouse operation features like the pointer speed, orientation, buttons functions and many others.
All settings are stored in the device. There's no need to configure the mouse if used with different devices.
Additional Information:
Manufacturer: BJLive!
BJoy Ring Support: https://bjliveat.com/bjoy-mice/240-BJOY-ring.html 
Video: