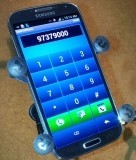 Operating System: Android
Availability at Mada Center : Out of Stock
The ClickToPhone App provides a highly customisable and accessible user interface for Mobiles and Tablets that run on the Android operating system.
Click To Phone provides direct or scanning access to:
•Answer and make calls.
•Read, compose and send text messages.
•Scan using an external switch or touch the screen.
•Take photos and browse the picture gallery.
•Play music files.
•Text-to-speech communication.
•Auditory scanning.
• Programmable scanning options.
To gain the most from ClickToPhone we highly recommend pairing with the HouseMate PRO Environment Control switch access module. HouseMate provides many enhanced features that have been developed specifically for disability access.
Additional Information:
Manufacturer: Housemate
http://housemate.ie/wp-content/uploads/2016/09/housemate_pro_android_manual.pdf