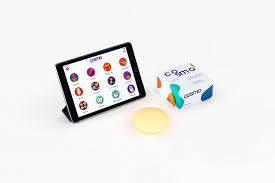 Operating System: Windows, iOS, Android, Chrome
Availability at Mada Center : Out of Stock
The Cosmo Switch is a unique Bluetooth switch interface for tablets, mobile phones, and computers.
It is highly responsive, making it very easy to activate regardless of your motor abilities. The switch lights up in a variety of colours, making it very engaging and providing visual feedback with every press.
The Cosmo Switch provides access to all switch accessible apps or software on iOS, OS X, Chromebooks, Windows and Android devices. Use the CosmoSwitch with your Augmented and Alternative Communication (AAC) software, for switch accessibility, for games, controlling music playback, or even connect to IFTTT to control your calls, lights and more.
Additional Information:
Manufacturer: Filisia (https://www.filisia.com)
Cosmo introduction video:

More information at https://www.filisia.com/warranty-guides/