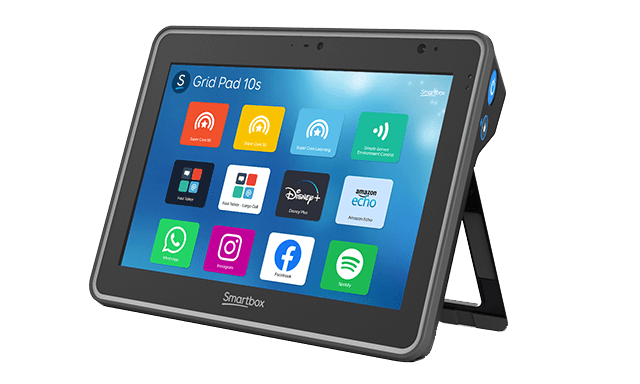 Operating System: Other
Availability at Mada Center : Out of Stock
Grid Pad 10s is a dedicated, multi-access device designed for users who want a portable and rugged communication aid. The high-quality engineering and unique set of features bring you a next generation AAC device designed with independence and durability in mind.
The second screen adds a whole new way to communicate by showing your message on the front of your device. This can be helpful in noisy environments in addition to using your Grid voice, helping you get your message across clearly to the person you're communicating with.
Grid Pad 10s is a multi-access device, so there are lots of ways to interact with it. There is a touch screen which you can use with a keyguard, two switch ports for use with switches, two USB ports for use with USB access devices like joysticks, and
a headphone and mic combo port. You can also connect Bluetooth devices to your Grid Pad such as wireless switches, pointers, headphones and more.
GEWA infrared Environment Control allows you to operate devices around your home, like your TV and other remote controlled gadgets. The front facing IR learning window provides ease of programming, and the multi-directional infrared LEDs give you a powerful 10m range signal.
Additional Information:
Manufacturer: Smartbox Assistive Technology
Grid Pad 10s User Guide: https://thinksmartbox.com/product/grid-pad-10s/ 
Video: