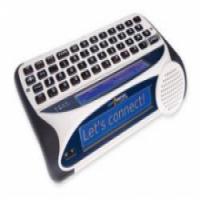 Operating System: Other
Availability at Mada Center : In-Stock
Lightwriters are text-to-speech devices – the person who cannot speak types a message on the keyboard, and this message is displayed on two displays, one facing the user and a second outfacing display for the communication partner(s). A speech synthesiser is also used to provide speech output.
For people who are unable to use a keyboard, some models of Lightwriter offer the option of an on-screen keyboard with selection made by a switch using a scanning technique.
Some models of Lightwriter offer the facility to connect to a printer to provide printed output.
Word prediction is included to make a significant reduction in the number of keystrokes.
The latest model of Lightwriter, the SL40, has a built-in mobile phone which provides text messaging and the option of voice telephony with the synthesised speech sent to the person on the other end and the incoming speech message being broadcast through the Lightwriter's loudspeaker.
Additional Information:
Manufacture: Toby Churchill  (https://www.thesequaltrust.org.uk/lightwriters/toby-churchill-pioneer-for-non-verbal-disabled-people)