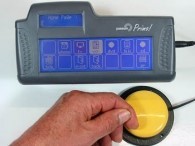 Operating System: Other
Availability at Mada Center : Out of Stock
Primo+ enhanced Environmental Control Unit (ECU) empowers people with physical impairments by providing control of the immediate environment through remote operation of electrical appliances and automated devices in the home or workplace.
The Possum Primo+ provides an affordable, touch sensitive, dynamic screen Environment Control device combined with switch scanning options. All packaged in an ergonomically styled, highly portable, lightweight yet robust case.
Control a Telephone, Television, DVD, Stereo, Radio, Heater, Fan, Lights, Windows, Doors, Intercom, Call System and even an Electrically Controlled Bed.
The Primo+ can hold up to 140 captured infrared codes as well as embedded Possum and Gewa codes in multiple menus providing the ultimate flexibility in controlling the domestic environment for older or disabled users. A library of selectable clear icons and programmable labels further enhance user choice and the customised nature of this versatile controller.
Additional Information:
Manufacturer: Possum
http://www.possum.co.uk/products/primo/