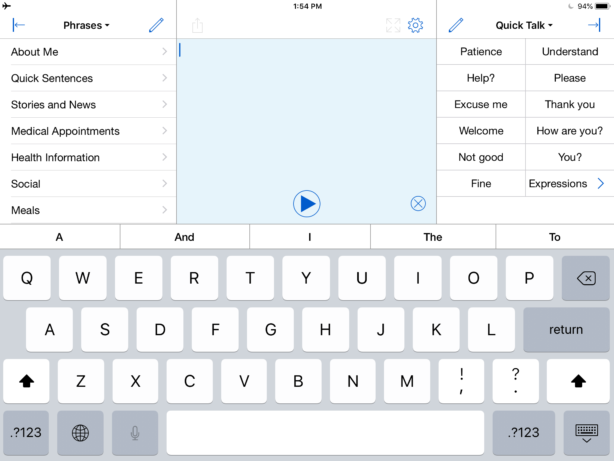 Operating System: iOS
Availability at Mada Center : Out of Stock
This Text to Speech app is for literate AAC users looking for an efficient text based communication app.
Type less and react quickly to the conversation at hand with smart features and a handy layout.
Prediction learns from how you write to give you suggestions for the next thing to say.
Create your own phrases, group them for fast access, and easily find things you've said before with history.
Access the keyboard, words and phrases from a single screen
Proloquo4Text lets you be you. Choose from more than 130 voices in 18 languages including English, Arabic, Catalan, Czech Danish, Dutch, Finnish, French, German, Greek, Italian, Norwegian, Polish, Portuguese, Russian, Spanish, Swedish, and Turkish.
These voices range from friendly adult voices to genuine children's voices. The voices are created using real recorded speech, making them feel surprisingly natural. For some languages, you even have multiple options.
Additional Information:
Manufacturer: Assistiveware (https://www.assistiveware.com/products/proloquo4text)
Proloquo4Text user story: