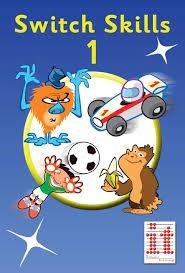 Operating System: Windows
Availability at Mada Center : In-Stock
Switch Skills 1:
This collection of easy switch timing games have themes which motivate children who understand cause and effect to develop more disciplined switch use. The activities also encourage speaking and listening and help develop concentration skills. The graphics are bright and clear and this combined with sound and music makes the games suitable for children.
Switch Skills 2:
It is early learning cause and effect software with 20 different activities The user presses the switch or touch screen to activate a bright animation with music. Higher-level activities require increased visual discrimination but are still activated by the press of a switch. 'Gopher in a Drainpipe' and 'Mystery Egg' can be trialed at www.helpkidzlearn.com.
Switch Skills 3:
It is a software has sixteen graded activities that aim to develop scanning skills. Some of the activities are error-free whilst others require good switch timing skills.
Other variations include Switch skills 1 Set 1, Switch Skills 2 Set 2, Switch Skills 1 Set 2, Switch Skills 2 Set 1, Switch Skills Scanning, Switch Skills Champions.
Additional Information:
Manufacturer: Inclusive Technology (http://www.inclusive.co.uk/)
Switch Skills Series Demonstration Video: