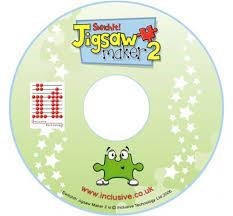 Operating System: Windows
Availability at Mada Center : In-Stock
Jigsaw Maker allows to create gizsaw puzzles activities for children with learning difficulties.
The jigsaws can be completed in 4 ways, which provides activities with a finely graded progression in skill level:
Cause and effect – just press a switch to build the picture. This level can also be used in a reveal game: The picture appears bit by bit, so learners can try and guess what the picture is before it is completed.
Click on any piece – it will jump into place. An easy introduction to making jigsaws.
Find the piece that fits the place chosen by the computer. A more demanding activity.
Drag the pieces into their correct places. This level simulates making a real jigsaw. Support is provided for those players who find dragging with the mouse difficult, and this level can also be played using single clicks of the mouse.
Additional Information:
Manufacturer: Inclusive Technology (http://www.inclusive.co.uk/)
SwitchIt Jigsaw Maker 2 Video Introduction