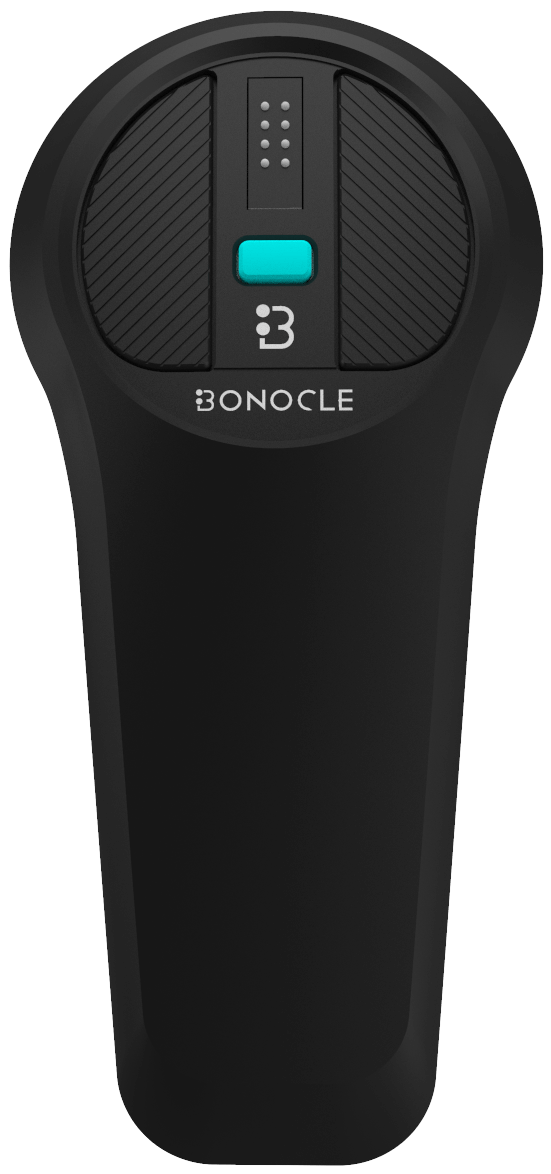 Operating System: Other
Availability at Mada Center : Out of Stock
Current braille solutions are fully built devices that utilize a line of braille to allow the visually impaired individual to read selected files that are uploaded on the device. Bonocle is the first of its kind assistive technology that utilizes one braille cell which refreshes as the device is moved across a surface allowing it to read the continuous text. This eliminates the limitations surrounding the presence of the limited number of braille cells in such devices. This allows pricing the Bonocle at an extremely competitive price point making it affordable to different markets that were not previously available due to the high cost of the current devices, i.e braille displays. This also allows Bonocle to be small in size and very portable. The innovative form factor of Bonocle provides the user with the utmost portability while allowing the visually impaired individual to use his device while on the move or comfortably while sitting in a public location. It also makes it easier to use since it is comfortable to hold and constitutes a familiar shape.
​
Moreover, Bonocle utilizes currently existing devices that are well developed, allowing the user access to a much wider range of content and features rather than developing a fully built device that will limit the individuals access to the content currently digitally available. The API will also allow full integration with the device enabling the user to access all the features of the device being used along with Bonocle. The possibility of the device to integrate with existing platforms allows vast possibilities in terms of extending the product functionalities. The API also supports integration with OCR technology letting the user read print content.
Bonocle combines hardware and software solutions to provide an innovative product that allows the visually impaired community barrier-free access to a broad array of digital content. It is a handheld/semi wearable device that incorporates a braille cell positioned under the fingertip of the user when held or worn. The product can communicate with various electronic devices (e.g. smartphones, tablets, laptops or personal computers) and display the contents of the device in braille on the incorporated braille cell, providing the user with unprecedented access to the digital content available.
Additional Information:
Manufacturer: Bonocle (https://bonocle.co)
Video: