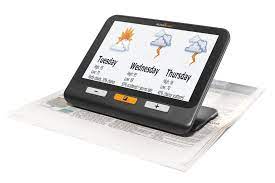 Operating System: Other
Availability at Mada Center : In-Stock
The Explorē Series by HumanWare is its most portable line of (HD) High Definition handheld electronic magnifiers: there are 3 versions, the Explorēr 5, 8, and 12.
Explorē 5 is a lightweight portable cctv that can be used anywhere to magnify small print or images from 2X up to 22X. This unit will enlarge and sharpen text and it will allow you to change the contrast and color enhancement of whatever you are reading or viewing. This is the lightest and simplest 5″ display portable electronic magnifier available. It has a retractable handle that can be opened sideways so that you can hold this unit in one hand as you would a normal lens magnifier. The Explorē can also be used hands-free if you open the handle vertically and stand the Explorē directly upon your reading or viewing material.
For more about Explorer 5, visit this link.
Explorē 8 is a smart, portable, touch-screen, two-camera tablet, designed with the user in mind.  The unmatched clarity of image with the most powerful camera on the market.  Easy to use, intuitive use, and one-touch buttons to activate features.  Light, portable, customizable.  This is the perfect electronic video magnifier for anyone with low vision and age-related macular degeneration. The explorē 8 features two 21-megapixel cameras—one for things less than 15 cm away like documents, books, and newspapers, and a second camera for distance viewing away to see things like street and store signs. The device boasts the largest screen in the smallest package, designed with the latest technology, innovative features, and an easy to use the touchscreen for unmatched mobility, comfort, and convenience wherever you go.
For more about Explore 8, visit this link.
Explorē 12 is an easy-to-use, portable electronic magnifier that offers HD image quality for improved near and distance viewing. As the largest portable magnifier in our explorē series, its 12-inch touchscreen is perfect for anyone desiring a larger interface, plus it has the added benefit of a foldable stand enabling easy use for reading, writing, and other manual tasks.
For more about Explorer 12, visit this link.
Additional Information:
Manufacture: Human Ware
User Guide: https://support.humanware.com/en-international/support/explore
Explore 8 Introduction Video: