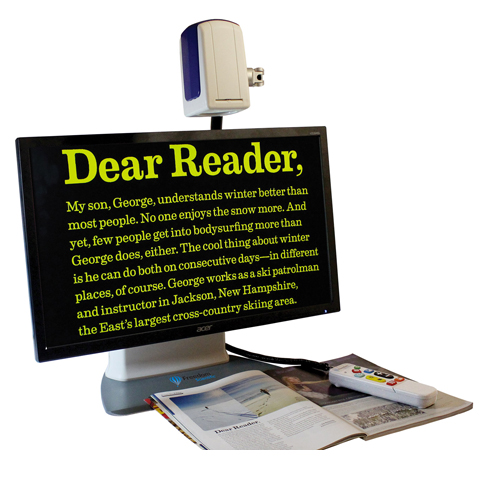 Operating System: Other
Availability at Mada Center : Out of Stock
The ONYX® by Freedom Scientific is a series of low vision magnifying system.
The ONYX Deskset HD is a portable video magnifier that adapts to multiple environments and tasks for productivity at school, work, and at home. The new sleek design integrates a high-definition camera and monitor to let you clearly see what you want, whether it's across the room or at your desk. The 3-in-1 flexible camera provides document reading, distance viewing, and self-viewing modes with versatile controls.
The ONYX OCR magnifies and reads aloud any document. The clear voice, magnification and high contrast makes reading so much easier. Comfortably change your focus from reading magnified texts yourself, to letting the ONYX OCR read them to you when reading becomes too tiring. Just place your document under the fixed OCR camera on the left and activate the speech function. Enjoy listening to any document as it is read aloud by a high quality voice, without straining your eyes. This four-in-one solution integrates two separate cameras: one for transforming text to speech output and one for magnifying documents and observing the room around you. This way, you can clearly see what you want, whether it is across the room or at your desk!
Turn your Microsoft® Surface Pro 7 into and magnifier and screen reader with the ONYX® Pro. The ONYX® PRO uses a simple USB cable to connect to a Surface Pro 7 and magnifies objects, text, or images. When in OCR mode, you can follow the magnified text in high-contrast colors on the tablet screen.
Additional Information:
Manufacture: Freedom Scientific
ONYX Product Family User Guides and Support: https://support.freedomscientific.com/Products/LowVision/ONYXDocumentation