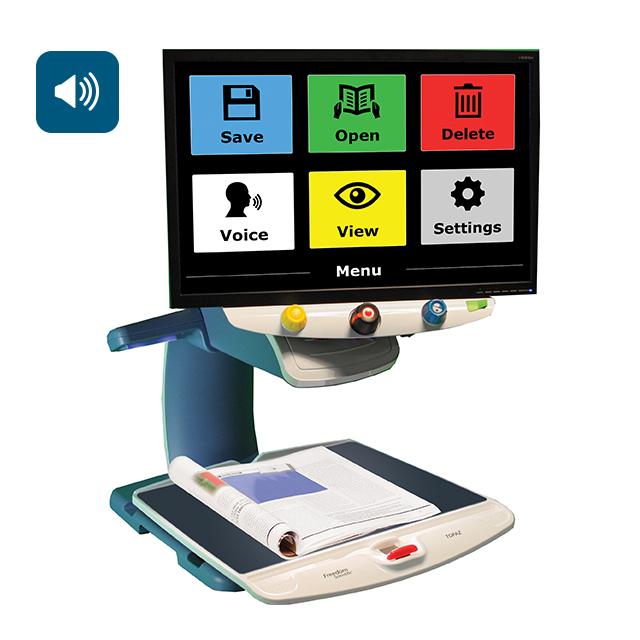 Operating System: Other
Availability at Mada Center : Out of Stock
Topaz is a series of desktop magnifying system by Freedom Scientific.
The TOPAZ OCR combines video magnification and text-to-speech features into a single desktop video magnifier. The high-definition camera produces a clear picture with sharp images and crisp text. The OCR camera displays a document on the touchscreen, and then TOPAZ processes, acquires, and reads aloud the document.
The TOPAZ HD video magnifier is the perfect choice for reading and performing daily tasks, with a wide magnification range, gliding reading table, lots of workspace under the camera, LED lighting, and unique features like Find and Freeze Frame.
TOPAZ EZ HD is simply uncomplicated magnification. This economical video magnifier emphasizes ease of use with single-function controls and a high-definition camera. The HD camera provides superior image quality, a wider field of view, and a lower magnification range.
The lightweight TOPAZ® PHD offers the comfort and productivity features of a desktop video magnifier but folds away like a laptop. With auto-focus, a wide magnification range, intuitive controls, six default and 27 customizable high-contrast color modes, and adjustable reading lines and masks, the new TOPAZ PHD offers the freedom to independently read and view the details that matter in the home, office, classroom, or on the go.
The TOPAZ Ultra is a portable magnifier with a unique folding design, making it extremely easy to take with you wherever you go. With crisp, full-HD images, available in a 15.6-inch or 17.3-inch screen, clearly see what you want, whether across the room or at your desk. The monitor height is fully adjustable, ensuring you always have the right reading angle. And its compact size lets you store it when not in use.
The ultimate desktop video magnifier, TOPAZ XL HD provides high-definition magnification with the sharpest image and the crispest text, allowing for low magnification levels that fit more text on the screen for faster reading and better comprehension with less fatigue. With its extra features and computer connectivity, TOPAZ XL HD is the video magnifier of choice for those looking for maximum productivity in work and school environments.
Additional Information:
Manufacturer: Freedom Scientific
Topaz Family User Guide: https://support.freedomscientific.com/Products/LowVision/TOPAZProductDocumentation
Video: