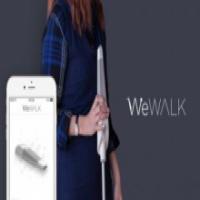 Operating System: iOS, Android
Availability at Mada Center : Out of Stock
There is an estimated number of over 250 million visually impaired people (World Health Organization) in the world and 50 million are using a cane. Since the beginning of the white cane usage, it never got innovated and visually impaired individuals faced problems like coming across above chest obstacles. WeWALK solves this problem and adds more to it through smartphone integration. WeWALK also has voice control features. The voice software can inform users of their location, aid in navigating bus stops and provide general directions. The languages available as of now are English and Turkish.
WeWalk has ultrasonic sensors that can detect obstacles around a blind person, including hanging obstacles above chest level and notifies them through vibrations and sounds. The device also connects to a person's phone through an app (via Bluetooth) and enables step by step navigation that it speaks out loud, thanks to its integration with Google Maps and other apps. Not only that, the app can read bus timetables out loud, notifies when a bus is approaching and also instructs the bus driver to stop! The company plans to continue to add more features, including advanced voice control through future software updates.
WeWalk has a touchpad that allows a user to interact with the app through swipe and pinch gestures. Double tapping the touchpad activates the voice control. Navigating to saved locations, finding out current location, enabling and disabling obstacle detection, and even finding one's phone can be done via gestures on the trackpad. Because all the actions are done via the touchpad, the user can simply keep the phone in their pocket, and use the freehand for other things.
Additional Information:
Manufacture: Wewalk (https://wewalk.io/en/product/smart-cane/)
User Guide: https://wewalk.io/en/support/
Video: